31.05.2020: Our home deliveries continue as usual, 1-3 working days ♡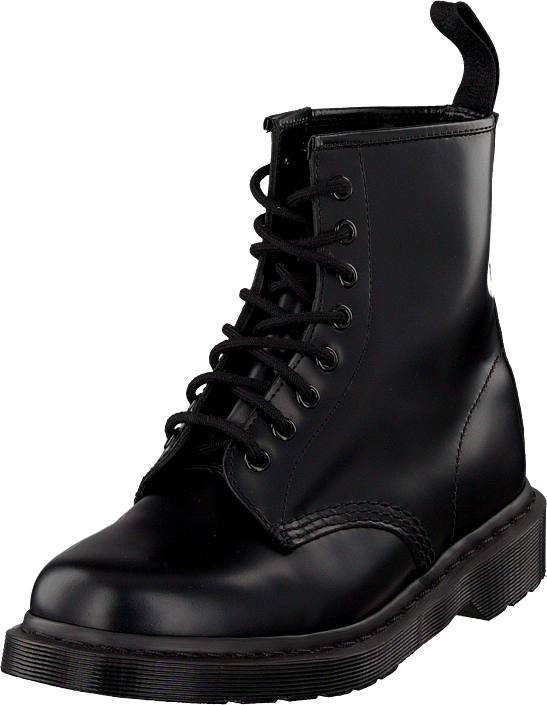 Do you want to inspire others? Tag @footway in your picture on Instagram for a chance to be featured here
3D
Dr Martens
1460 8-eye boot (Core Mono) Black
Product description
Black
Leather
Rubber
3,5 cm
15,5 cm
Laces
47304-00
Dr Martens 1460 8-eye boot (Core Mono) Black


When it comes to boots there are few brands that have a reputation as strong as Dr. Martens. The Dr. Martens 1460 8-eye Boot (Core Mono) Black is a truly classic black boot with 8 eyelets. The boot has a stylish look with all of the various details and elements of design made in exactly the same shade of black.


Dr Martens unique leather


Dr. Martens has built such a world famous brand for a good reason with their great boots. The company uses a thick leather that is stiff at first, but then gradually molds perfectly to your feet. It is Goodyear which provides the rubber sole, which is then fused with rubber molding around the shoe. This quality makes the boots much more water resistant.


The perfect boot


Buying a pair of Dr. Martens boots is making an investment in footwear that will last for years to come. They only become more comfortable and better looking the more you use them. Dr. Martens 1460 8-eye boot is suitable for just about any outfit, giving give it a nice twist whether it be at a summer festival or the middle of winter.


Take care of your boots


Although Dr. Martens 1460 8-eye boot (Core Mono) Black is very durable, it still does require some care to last as long as possible. As the boots are made of leather you can impregnate them and use shoe polish to keep them looking their best.
Show more
Popular shoes from Dr Martens