25.07.2021: Our home deliveries continue as usual, 1-3 working days ♡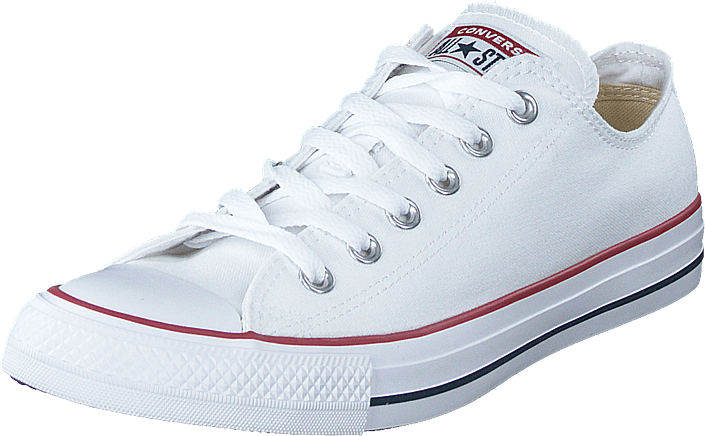 Do you want to inspire others? Tag @footway in your picture on Instagram for a chance to be featured here
3D
Product description
White
Textile
Rubber
4 cm
Laces
24597-00
Converse All Star Canvas Ox Optical White


Converse is one of the world's most famous shoe brands, with a long history that dates back to over 100 years ago. The brand was initially made to produce galoshes, but they eventually shifted their focus to sneakers. Over the years, many shoe models have come and gone while the Converse All Star Canvas Ox Optical White have always stood out at the top. These shoes can be worn whether you're working out or having a casual day out on the town. The Converse All Star Ox Capital White are shoes that can be used any time that you need to go out whether it be a night in or a special dinner, you can be sure to look good.


Thick rubber and breathable fabric


Converse is a brand that is tremendously popular and known for stylish, yet simple designs. The shoes are made with cotton fabric that comprises heavy canvas with a durable rubber sole, and are great for anyone looking for a great pair of shoes. Even though the design is simple, the Converse All Star Canvas Ox Optical White are amazingly comfortable so that you will be sure to wear them all day without wanting to take them off. A simple way to spice up your Converse is to replace the laces with a more colourful option to give them your own unique feel. Although you can use them throughout the year, they are best suited to be worn in the spring and summer.


Converse will match many looks


Converse are the perfect option no matter what you are looking to wear as they are able to match with a variety of different outfits. The simple shoes fit just as well with a pair of jeans as they do with an elegant suit. By adding a pair of Converse to your outfit you are able to add the perfect finishing touch to your look to give it that extra pop you are looking for. You can also wear these shoes as a way to tone down a more dressed up look and ensure that you are able to always match the occasion.


Care instructions


Because the converse All Star Canvas Ox Optical White are made of cotton with rubber soles that have a wide variety of products that can be used to both protect and clean them. You can always use a solution of warm soapy water to rub off any stains that may arise from spots of dirt or spills that get on the shoes. It is best to use these shoes in dry weather as they are not made to deal with the rain and keep your feet dry; instead, the canvas is meant to look good when the weather is better.
Show more
Popular shoes from Converse