25.07.2021: Our home deliveries continue as usual, 1-3 working days ♡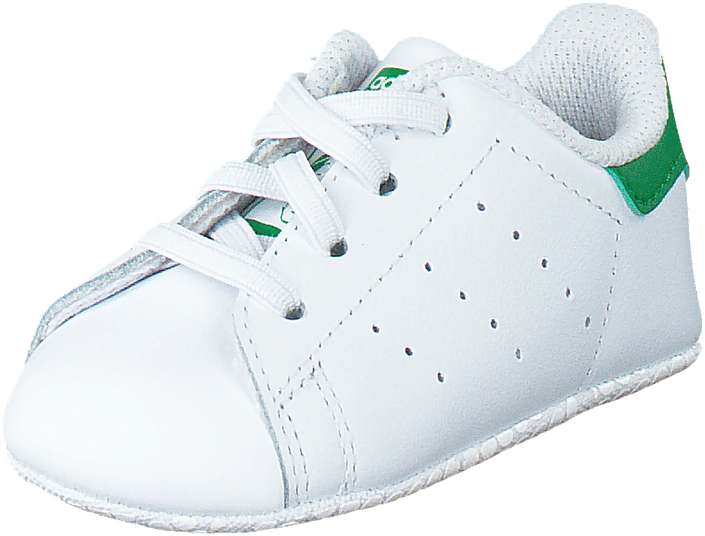 Do you want to inspire others? Tag @footway in your picture on Instagram for a chance to be featured here
3D
adidas Originals
Stan Smith Crib Ftwr White/Green
Customer data
adidas Originals have normal sizes according to 29300 customers
Product description
White
Leather, Synthetic
Rubber
Laces
53235-00
adidas Originals Stan Smith Crib Ftwr White/Green


adidas has come out with many classic and original shoes over the years and among the most popular ones you will find Stan Smith. This is a very stylish and clean shoe with nice details. adidas Originals Stan Smith Crib Ftwr White / Green are meant for small children and they are perfect if you want your children to look trendy. Perhaps you have a pair yourself and want you and your child to match or maybe you just want to add a pair of stylish shoes to their wardrobe.


Stylish shoes with an optimal grip


adidas Originals Stan Smith Crib Ftwr White / Green are children's shoes made of leather and synthetic. They have soft rubber soles with anti-slip protection to give your children optimal grip on the floor. The white and green colours are classic and look very nice. This truly gives these shoes a very neat appearance. Another big plus is that they are designed in a way so that you can easily put the shoes on your children's feet.


Classic shoes


Stan Smith have been one of adidas' most popular shoes for many years. They are very stylish and many parents will be thrilled to know that they are available for children as well. adidas Originals Stan Smith Crib Ftwr White / Green will make your kids look very trendy and the rubber soles provide a great grip. These shoes will match many outfits as well as colours and patterns.


Keep your children's shoes looking fresh and clean


We know that you want to keep your children's adidas shoes looking nice and fresh and this doesn't require a lot of extra effort on your end. If you want to keep the leather soft and fine there are many good shoe care products on the market to choose from. What is important to remember is to pick products specifically for leather. If the shoes get dirty you can quickly brush it off with a soft brush or a cloth.
Show more
Popular shoes from adidas Originals